This is Part 2 in Frannie's exploration of Wellhead Protection.
Read Part 1 here and look for more blogs to learn more about what it is, who protects the wellheads, and why it's important.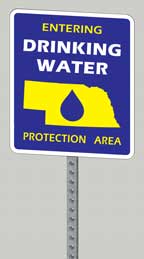 Frannie knows that it takes a lot of teamwork to develop and enforce a Wellhead Protection Area. From members of government to city water operators to customers, everyone has to work together to protect the water supply.
Wells and wellfields are highly influenced by the surface around them. For example, if a community uses too much fertilizer on its lawns or crops, a well has the potential to act as a direct pipeline, funneling the chemicals into the groundwater below. It's important for people and agencies to communicate with each other about appropriate strategies for facing groundwater threats.
In Frannie's home state of Nebraska, a special group meets 3-4 times each year to hold such conversations. Back in 2001,
The Groundwater Foundation
, funded by the
NebraskaDepartment of Environmental Quality
, began to facilitate and record the meetings of the Nebraska Wellhead Protection Network (NeWHPN). Members include the
Nebraska Department ofHealth and Human Services
, the
23 Natural Resources Districts
in Nebraska, the
Nebraska Rural Water Association
, local water systems and water supply operators as well as other people, businesses, and agencies who are involved with tackling groundwater and drinking water issues.
Network meetings often cover topics and hot button issues that are requested by and relevant to Nebraska communities facing threats to their groundwater, including nitrate contamination and depletion. Many meetings include tours of the facilities being discussed or workshops that help network members develop skills that facilitate groundwater education and protection.
If you'd like to read about what the NeWHPN has covered in the past or you'd like to participate in future meetings, check out their page on The Groundwater Foundation's website.